Matt DelBlanc | Lead Pastor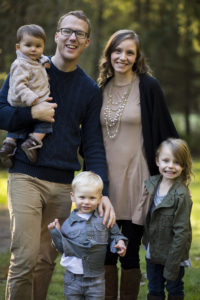 I was born and raised in Surrey, BC. After attending Pacific Life Bible College and ministering to children and young adults at Peoples Full Gospel Church I moved to Vancouver Island in July 2008 to become the Children's Pastor at Northgate Foursquare Church. Days after moving I met a beautiful woman named Deanna and on June 5th 2010 we became husband and wife. That August we moved up island to Campbell River to become the Campus Pastors of the Northgate Campus there. In September 2012 we lead the transition of the Campbell River Northgate Campus to become Gateway Foursquare Church. We are the proud parents of the worlds cutest kids Evie, Hosea and Lukas.
I am a twin, you can call me Matt (but my mom prefers Matthew), I am a proud Swede and I have been know to be a little competitive at times. I am so excited to be a part of what God is doing in Campbell River as He builds His church.
Galicia Coulter | Children's Pastor
I was born in Mexico. My father served as a pastor and when I was five my parents became missionaries. One of my personal goals since kindergarten was to learn English. I would weepingly ask my mother not to send me to kindergarten but to enroll me in an English preparatory school. Learning English was a heart's desire fulfilled!
I accepted Jesus as my Lord and Savior in my last year of high school and pursued my calling into the mission field. My heart has always been geared towards reaching children for Jesus. I studied education with the University of the Nations, and completed The School of the Bible in TyIer,Texas. My husband and I met while we were both serving with Youth With a Mission. We have been married for twenty years, and God has blessed us with an energetic son, Sean. Our family has lived in Campbell River since 2005.
It is an honour and privilege to work with Children's Ministry at Gateway. I look forward to the wonderful and exciting things that God has in store for us!
Leadership Team
Pastor Matt leads Gateway with a 6 member eldership group and a 6 member Church Council.
Elders
Matt & Deanna DelBlanc
Fred & Janet Farren
Ian & Therese Rudiger
Council
Matthew DelBlanc
Dave Dobson
Peter Hofer
Tanya Hofer
Joy Holbrook
Dennis Peeman